I'm attending
Designer Con
in LA for the first time this weekend!
Here's my signing schedule!
Poposition Press booth (#509 )
Saturday 19th-2:30 to 4:00pm
Sunday 20th-1:00 to 3:00pm
We'll have a limited number of my new
Triad pop up books
available,
pins
and single blad pages for sale, Special Editions
with Slipcases on display!!
Woot Bear
booth (#1805)
Sunday 20th-11:00am to noon
We'll have new
Junko Woot Bear large print
(12x18) available!
I'm also taking part in a panel with Julie Beezy from Pretty in
Plastic, Whitney Kerr of Rotofugi and artist Tara McPherson.
This panel is only for VIP ticket holders only.
Click here for details.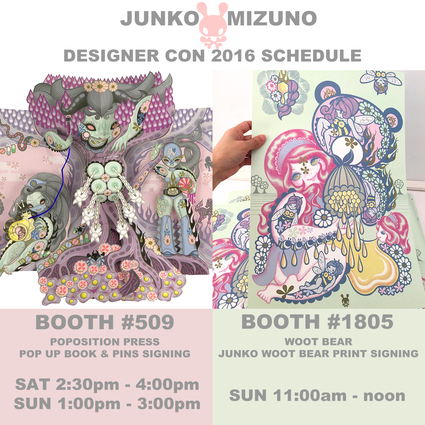 NOTE: Ad links at the bottom of posts are not related to Junko Mizuno.)