The English edition of my picture book
Ravina the Witch?
is coming out on June 6th and I'm having an event with talk, live drawing and book signing at
Kinokuniya book store
in Japan Town San Francisco.
Saturday, June 10, 2017
2:00pm 4:00pm
Kinokuniya San Francisco
1581 Webster Street San Francisco, CA, 94115 United States

Official event page

The picture book "Ravina the Witch?" is for grown-ups! Powerful artist Junko Mizuno published this very original work in French in 2014. Now, the English edition is coming out this June! It is a fantasy book of illustrations and story that is fraught with fear and beauty. Join us for this rare opportunity to see Junko's live drawing followed by a Q&A session and book signing.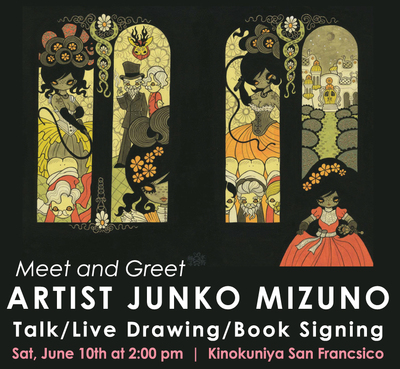 FOLLOW JUNKO MIZUNO!
INSTAGRAM
-
FACEBOOK
-
TWITTER
Subscribe to
JUNKO MIZUNO NEWSLETTER
NOTE: Ad links at the bottom of posts are not related to Junko Mizuno.