'The Witch, the Nurse, & the Wrestler - the art of TRIAD pop up book' is a mini art show about my pop up art book TRIAD published by Poposition Press earlier this year. Original paintings of the pages will be on display along with original drawings of characters & elements that I created just for the book.
Date: Saturday, December 16th, 2017 - January 16th, 2018
Where: Woot Bear (1512 Haight St., SF 94117)
Also, Poposition Press will be bringing large pop up pages for display and attendees can catch the first glimpse of my Ikea glass figure that is coming out next year and the Wilkowski/Junko collaboration Woot Bear figure. Prints & books will be available, too!
If you are not able to make it to the gallery, you can see/purchase the pieces online here!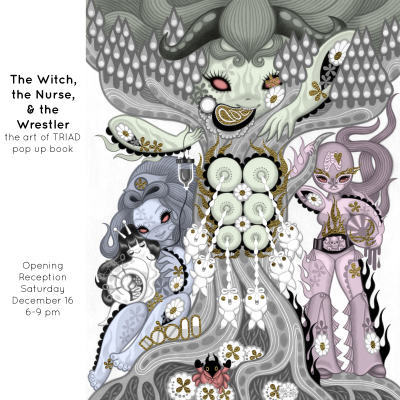 FOLLOW JUNKO MIZUNO!
INSTAGRAM
-
FACEBOOK
-
TWITTER
Subscribe to
JUNKO MIZUNO NEWSLETTER
NOTE: Ad links at the bottom of posts are not related to Junko Mizuno.