San Diego Comic Con is over but I still have two more signing
events coming up this month.
July 25 (Sat) : The Pop Up Art Book release & signing at Woot Bear, San Francisco
for a long time and it's finally coming out! They turned my
Pancakes painting from 2012 into a beautiful pop-up page.
I, Skinner & Jim Mahfood are signing at
Woot Bear
in San
July 31 (Fri) : Violet Soda Lady 8" Dunny release &
signing at Kidrobot, San Francisco
Thank you so much to everyone who got my SDCC exclusive
Berry Chocolate Lady!
Now the original version Violet Soda Lady is coming out! She will be available in stores and online at
For questions about the product, please contact Kidrobot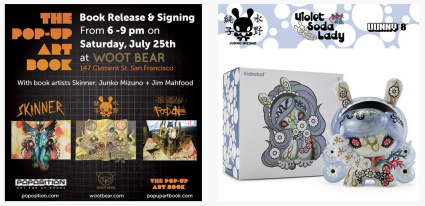 FOLLOW JUNKO MIZUNO!
TWITTER / INSTAGRAM / FACEBOOK
Receive Junko Mizuno Newsletter!
(NOTE: Ad links at the bottom of posts are not related to Junko Mizuno.)